Fine Quality School Uniforms at
Just the Right Prices
We help you step up your game
Whether it is netball, basketball and football jerseys, athletic shorts, polo shirts, swim suits or tracksuits, no matter what sportswear you need, Hewden Enterprises can supply it to you! Get the uniforms delivered fast and free before your season starts. We use speciality sports fabric to fit you well and keep you cool & dry. Design t-shirts for your team and avail heavy group discounts.
Uniforms
We manufacture school & office uniforms as well as medical clothing for doctors. Our uniforms are skin-friendly and will perfect fit you! As per the specifications provided by our clients, we can tailor uniforms in various sizes, logos, designs and colours. With the help of our reliable team, we assure delivery of school, corporate & hospital uniforms within a specified time period.
Sportswear
Are you looking for a soccer jersey to play in style? Or are you in need of a perfect swimsuit to fit your unique body? At Hewden Enterprises, you will be convinced that you've arrived at the just right place! From sports gears to kids' sports apparel, we have it all! Let us help your team feel like real winners! For customised sports attire for men & women, please place an order.
Screen Printing & Embroidery
Over the years, we have manufactured for almost every sport in Jamaica. Whether you are looking for screen printed basketball jerseys or embroidered football t-shirts, you can count on us! Discuss your specifications with us in the design meeting and we assure you'll be pleased with the end result of your project. We truly believe that our sportswear range is second to none!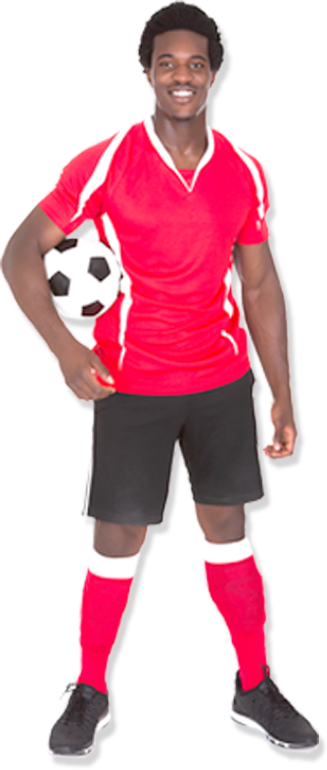 Company Profile
Hewden Enterprises Ltd has been catering to the apparel needs of people in Jamaica. Whether our customers are in need of oversize/tall sizes sportswear, t-shirts, tracksuits, polo shirts, gym wear, swimwear, school uniforms, cheerleading uniform, graduation gowns, choir gowns or bibs for all occasions, we have everything at reasonable costs. We also offer youth football gears, P.E gears, promotional shirts and bags. If you want to customise your apparel & products, we can screen print or custom embroider them too!
Hewden Enterprises is engaged in contract manufacturing for third parties. Our company has a range of specialised machines and attachments that can manufacture all types of apparel. We offer White Label, special & custom clothing services for those wishing to start a clothing line. Contact us for more information.
Opening hours –
Monday to Friday 8:00 am – 4:30 am
Saturday 10:00 am – 3:00 pm.
Whether you are at work or play, get the right uniform for a sharp look!